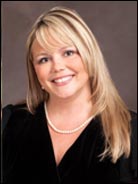 Jennifer is a board certified Nurse Practitioner born and raised in New Jersey. Her post­ nominal credentials are defined as Registered Nurse, Master Degree in Science, and Family Nurse Practitioner. She is a seasoned Nurse Practitioner with 18 years experience. Her professional career began in Family Practice and has found her niche and passion for Dermatology during the last eight years at Connolly Skin Care.
Jennifer's role and responsibilities consist of diagnosing and treating melanoma and non­ melanoma skin cancers, acute and chronic diseases of the skin, as well as performing dermatological surgeries. She emphasizes health promotion and disease prevention and enjoys educating and empowering her patients through early detection. She encourages a team approach between the patient, family and provider and guides patients with decisions and treatment options as opposed to dictating them.
Academically, Jennifer was inducted in the Sigma Theta Tau Honors Society in 1997. Her professional activities include memberships in several organizations such as The National Academy of Dermatology Nurse Practitioners, The Dermatology NW'Ses Association, and The Ocean and Monmouth County Nurse Practitioner Forum.
Additionally, she has been an educational speaker to local fishing clubs and the U.S. Coast Guard Auxiliary and a pharmacological speaker for her dermatology peers.
She is active in her community and local government as well. Jennifer holds the volunteer position as the Chairwoman of Tuckerton Waterways Commission. She has volunteered at several skin cancer screenings on the beach and at local hospitals and retirement facilities. She enjoys many recreational activities such as boating, fishing, and scuba diving but above all cherishes quality time with her 4-year-old son.